Term Insurance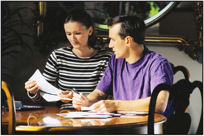 Terms insurance is affordable because:
You pay for only the cost of protection
No part of the premium is used for cash value accounts or dividends
Offers payment flexibility to bridge temporary needs
1, 5, 10, 15 & 20 YEAR
RENEWABLE TERM

Term life insurance offers an economical solution to short term insurance or collateral security needs, such as:

Home mortgage security
Automobile, RV or boat loan
Short term business plan

Plan
Term life insurance may be renewed for a 1, 5, 15, 10 or 20 year term at the guaranteed premium shown in the certificate premium schedule.

Feature
Base coverage amount may be converted to a new CSA permanent life certificate using the same rate classification without medical evidence of insurability.

Underwriting Classification

Smoker
Non-smoker
(no tobacco use in previous 12 months)
Preferred (available only on minimum $100,000 basic death benefit amount)

Premium

Competitive Rates based upon 2001 CSO table
Renewal premium is guaranteed according to the Certificate Schedule

Age Limits
18 - 69 (for 1 year term)
18 - 65 (for 5 year term)
18 - 60 (for 10 year term)
18 - 55 (for 15 year term)
18 - 50 (for 20 year term)

Riders
Waiver of Premium (18 - 59)
Accidental Death Benefit (18 - 60)

* NOT AVAILABLE in Maryland or New York
Certificates issued by:
CSA FRATERNAL LIFE
2050 Finley Road
Suite 70
Lombard, IL 60148
All plans not available in all states. Issue ages may vary depending upon plan and eligible rate class. Contract provisions and benefits may vary by state.
The underwriting risks, financial obligations and support functions associated with the policies issued by CSA Fraternal Life are solely its responsibility. CSA Fraternal Life is responsible for its own financial condition and contractual obligations. CSA Fraternal Life does not solicit business in all states.
Fraternal Benefits available to eligible Term Insurance members
Scholarship - Undergraduate grants are awarded to eligible members attending an accredited institution full time.
ScriptSave - Prescription drug discount card that is recognized by participating pharmacies nation wide.